What To Wear As An Indian Wedding Guest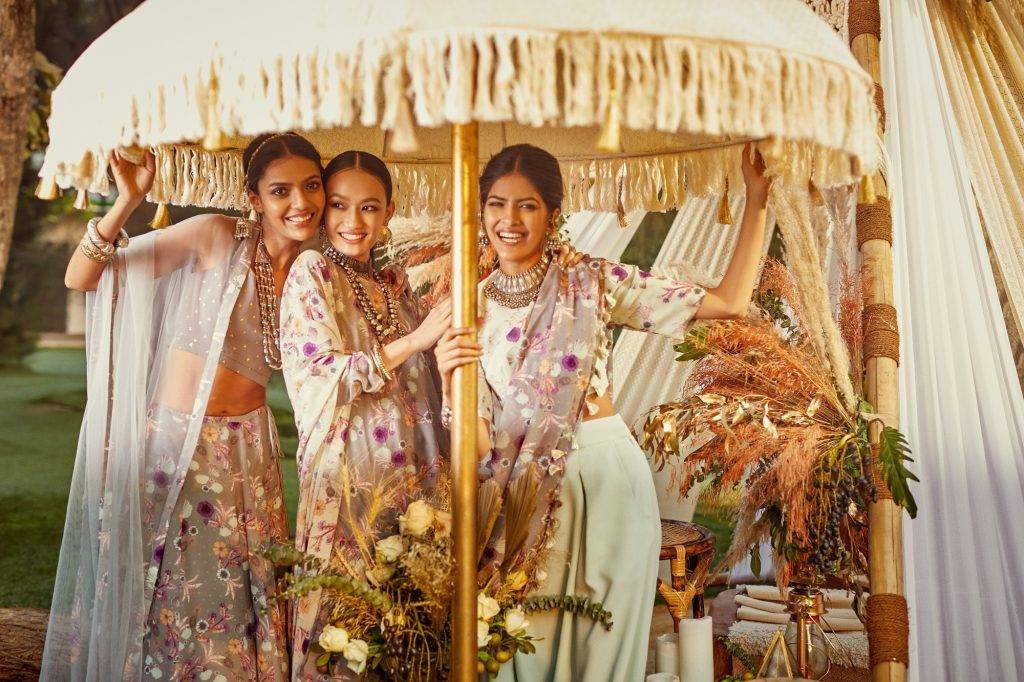 During the "Mehendi", all of the women are invited to participate in getting their mehendi (also known as henna) done by mehendi artists! This is a plant-based paste in a cone that is applied on your hands in a decorative pattern and once dried, flakes off to reveal a beautiful temporary tattoo.
What to wear:
Guests are usually encouraged to wear bright, colorful Indian clothing (yellows, oranges, pinks, etc.) that are a bit more on the casual side (relative to other events). Women can wear any of the following:
- A "salwaar kameez", a loose fitting tunic over a pair of draw-string trouser pants
- An "anarkali", an empire waisted tunic with draw-string tapered pants (sometimes if they are long enough, they are even sold without the pants, like a dress)
- A casual, flowy lehenga that is light and not heavily adorned or ornate
This is recommended as opposed to a gown or a very heavy lehenga.
Pro tip: wearing 3/4 or 1/2 sleeve outfits for this event as opposed to full sleeve outfits is a good idea to make sure the mehendi on your hand doesn't accidentally stain your outfit as it dries.
Men can wear a standard beige/white or colored kurta with a patterned vest on top.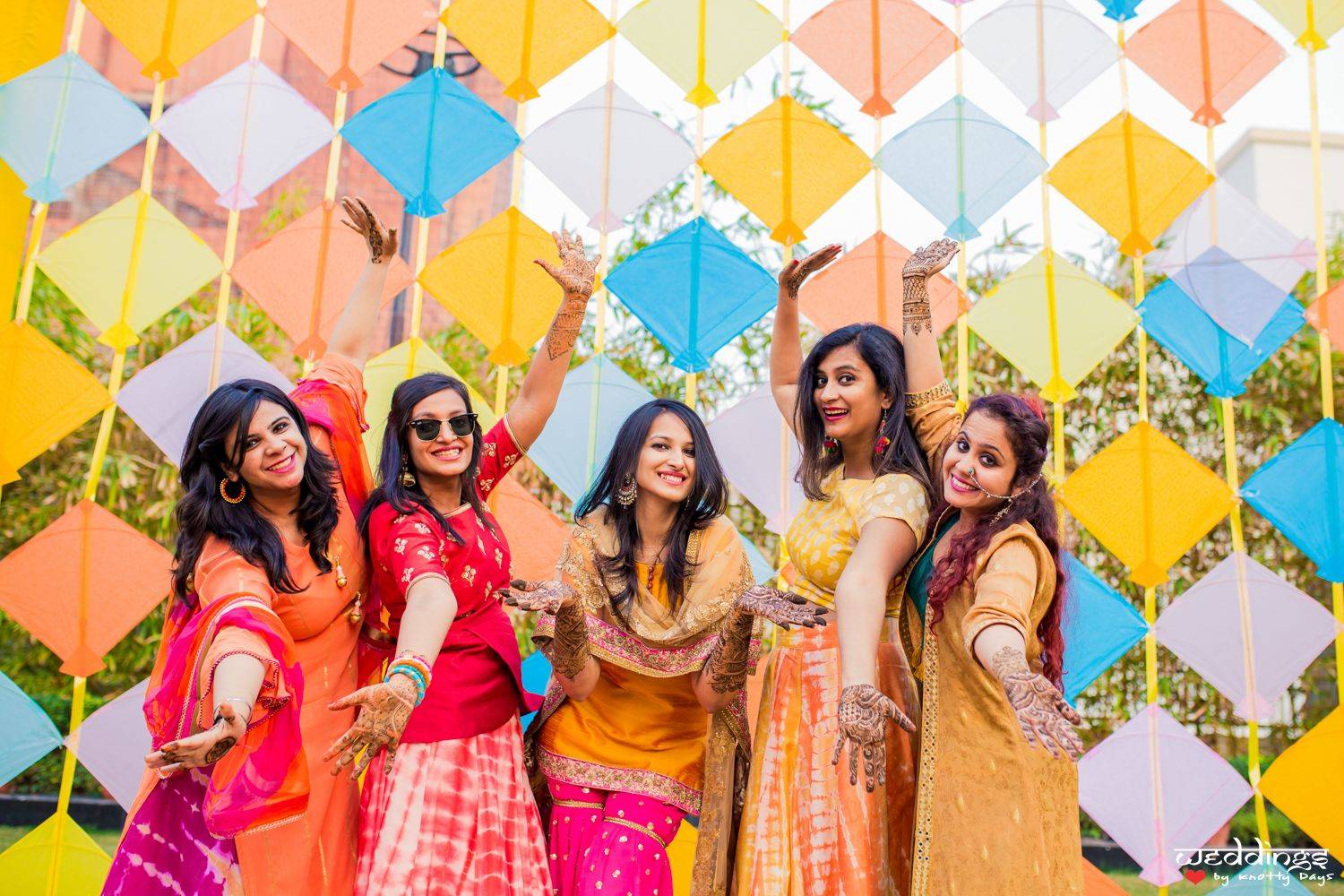 The Sangeet is a night of song, dance, and delicious food. It is meant to be a super colorful, festive event and a fun night of entertainment for the bride and groom as their friends and family participate in various performances and games meant to showcase the couple.
What to wear:
Guests will want to wear colorful, flexible clothing that will allow for movement, because they will be dancing!
Women: A multi-colored lighter lehenga, indo-western jumpsuit or co-ord set. Light jewelry that has firm clasps and closures are recommended as well.
Men: Men can usually wear a basic, colorful kurta, similar to the one they wore at the mehendi.
Now that you know what to wear, have a great time!!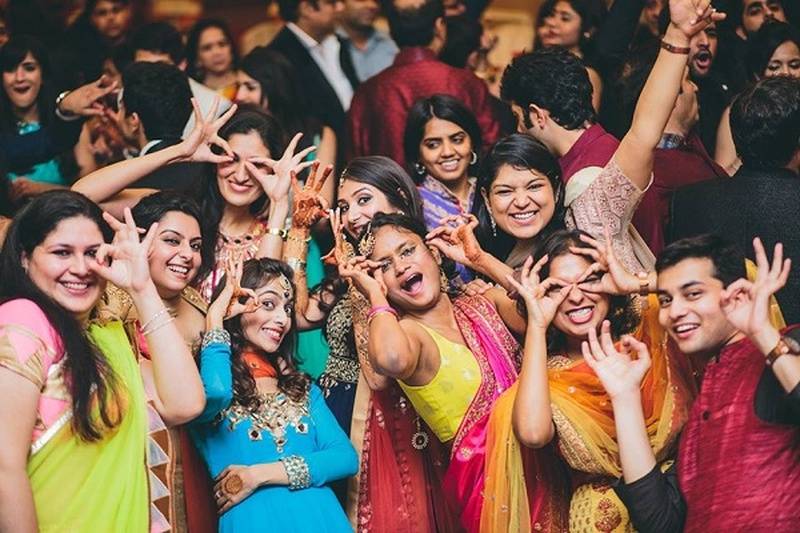 Indian wedding ceremonies are preceded by the Baraat. This is the outdoor procession, just before the ceremony, in which the groom rides in on a horse or a car. There is usually some light walking and dancing outdoors, so wear comfortable shoes and sunscreen! Afterwards, the ceremony will begin right away so you will not have time to change between the baraat and the ceremony.
Women: Wear a Lehenga, Anarkali, or Gown. If you want to wear a pre-pleated sari, this is your time to do it since you will be seated for a good portion of it and saris are the most traditional Indian outfit. Do NOT wear red (the bride will be wearing red) or black.
Men: Wear your fanciest kurta. These will often have a bit more embroidery or gold work on them. Perhaps they have more of a collar or an embellished stole. Again, don't wear red or black. The groom will likely wear a beige "sherwani" (similar to a kurta) with red and gold highlights. However, that does not need to stop you from wearing beige/gold as well as those are the most common colors for kurtas.  
The Reception is borrowed from the American wedding ceremony and is not a part of the traditional Indian ceremony. Hence this will be a lot like an American reception (dinner, dancing, speeches)...except in Indian clothing! This is usually the "fanciest" of the events.
What to wear:
Women: Your most embellished/heaviest lehenga, anarkali, or gown. Trust us. Big earrings or other jewelry are also encouraged! You can wear black now and even red if you want.
Men: Men will mostly wear a suit for the reception
Now that you know what to wear, have a great time!!