Riya Collective Powers the Indian Clothing You See on TV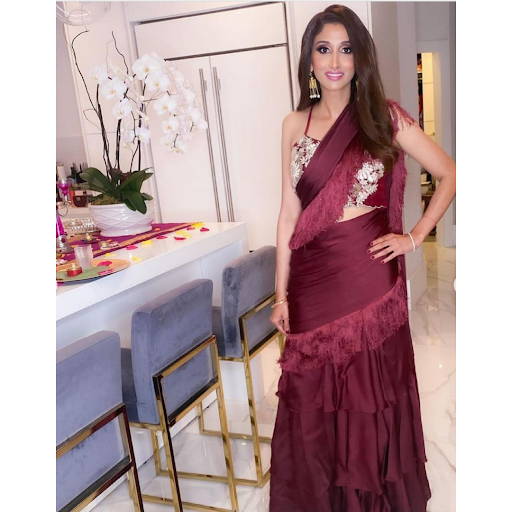 July was a big month for Riya Collective: two of the most prominent shows on TV announced that they sourced their Indian outfits from our company.
Last week,
Poorna Jaganathan
shared that Riya Collective helped source all the Indian clothing she (Nalini) wore on Mindy Kaling's Netflix hit series Never Have I Ever including designers Payal Khandwala and Ikai by Ragini Ahuja.
Earlier in the month, Family Karma star
Anisha Ramakrishna
announced that all of her Diwali outfits on the show were from Riya Collective (designers Salt and Spring by Sonam Jain, Bhumika Sharma, and Ritika Mirchandani).
The ethos of Riya Collective is the pride we feel in our clothing as a representation of our culture and the joy we feel in sharing that culture here in the US. That's why both of these events were so meaningful to us and took a moment to reflect on their significance.
First, just the fact that Indian clothing is being worn on mainstream television shows is mind blowing for two women who grew up watching The Gilmore Girl and Gossip Girl. The subliminal messaging clearly enters your head: trendy fashion is Western fashion. And even when we did see Indian clothing anywhere in the "mainstream", it was there to make a point. It was there to show the character who wore them as overly traditional, out of place (e.g. the Mom on Bend it Like Bekham). Or sometimes they weren't even trying to make that point, but they inadvertently did by having the characters wear super out-of-date clothing (e.g. the Patel sisters in the Harry Potter series who later became meme).
None of that portrayal resonated with what we felt growing up – that the Indian clothing in our closet was the most intricate, beautiful, and flattering clothing we owned. And when we started Riya Collective, we went through the major transformation of discovering that Indian designers
today
are truly creating the most cutting edge, creative clothing we have ever seen.
When we spoke to Poorna and Anisha, we found kindred spirits. In Poorna, someone who is every bit as proud and excited to showcase South Asian designers as we are. She put extra effort to make sure that in Season 2 of NHIE, Nalini would show some of India's best designers and do it in a casual way that just says, "yup, wake up, this is Indian clothing". In Anisha, we found someone who believes so deeply in sustainability and the idea that these clothes should be appreciated, but not wasteful. She uses every chance to provide a microphone for the cause of sustainable clothing – one that has only recently become a conversation in South Asian clothing. On both shows, these women show a multi-dimensionality to Indian clothing and culture that we have never seen on TV before.
There's a movement, accelerated in 2020, to have more diversity in television. Diverse stories told by diverse characters. We are huge fans of this and hope the next step will be to showcase the gorgeous diversity in the clothing and designers that exists around the World because it's one of the most visual and powerful forms of representation.