What to Expect and What to Wear: We've Got You Covered!
So you've been invited to an Indian Wedding. . . 
First off, congratulations! We think it will be a truly magical experience.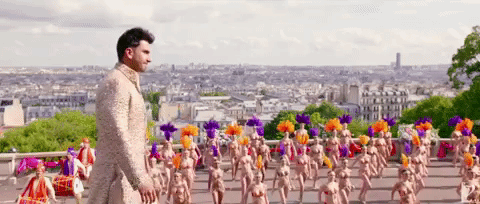 Secondly, what the heck are you going to wear?  You might have heard that there are multiple events to get to, different dress codes for each one, and some cultural faux pas you need to avoid.
Not to worry, because we'll go through each event one by one. 
In general there are 4-5 events that take place in a modern Indian wedding (most have #2-#5).
1)      The Mehndi
2)      The Sangeet
3)      The Baraat
4)      The Ceremony
5)      The Reception
Day 1
Mehndi: 
The Mehndi usually takes place the night before the full festivities begin. It is a part of the pre-wedding ceremony celebration when the bride has mehndi (you might have heard it called Henna) applied to her palms, hands, and feet. Usually family and maybe close friends of the bride are invited (and sometimes only female friends), and you, as a guest can expect to have mehndi applied too (you can opt out of course). 
The attire for this is Indian but more casual (think Anarkali suits in cotton, linen, or more casual fabrics are great). Also, the mehndi can stain, so we'd encourage wearing something with shorter sleeves. Avoid wearing very loose tops or dresses too, to avoid accidentally getting mehndi on your clothing.  
Sangeet: 
The Sangeet is THE pre-wedding event to get excited about. This event involves meeting the couple's families, lots of food (like all Indian events), and song and dance performances from family members and friends. Sometimes guests will dance during the sangeet as well.  For this event dress in more formal Indian dresses or clothes (Anarkali, Lehengas, Saris). This is the event to dress your most colorful - bright colors and unique fabrics are ideal. If you have a more "ethnic" outfit you want to wear, now is the time! Avoid black as it's a bit of a downer here, everything else goes! 
Day 2
Baraat + Ceremony: 
The Ceremony itself is quite an event.  
It starts off with the baraat, or the groom's procession. The groom arrives to the ceremony on a  beautifully adorned white horse, or sometimes even a decorated elephant. The groom's friends and family dance around him as the dhol (Indian drum) plays. 
The dress code for this is Indian clothing (Anarkalis, Lehengas, Saris). If you are on the groom's side (or just the life of the party) you will likely be dancing and parading outside for quite a bit of time during the Baraat so plan accordingly!  After the baraat the ceremony will take place. You do not need to change between the baraat and the ceremony.
You should wear your most "elegant" outfit for this event. Stay away from red and black as red/gold is often worn by the bride, and black is considered inauspicious to wear to a ceremony.  If it is specifically a Sikh or Muslim ceremony, you may be asked to cover your shoulders for this event. 
Reception:  
Finally, the reception is held. This is the event that guests really dress up for (glamorous Saris, Anarkalis and Lehengas). At most weddings, you will have time to change outfits between the ceremony and the reception. Reference your invitation to make sure this is the case. 
The Indian reception is taken from the Western wedding tradition - the new couple is introduced to guests and their family members often speak or make toasts. A cocktail hour is held for families and friends to greet each other, followed by a delicious dinner.  Finally, everyone heads to the dance floor to dance to Indian (and often also western) music. This part of the wedding is really just a big, joyous, party. 
You can wear black or red here, and try out glamorous, gorgeous silhouettes and styles including lehengas, gowns, and indowestern wear. Pile on the jewelry, and feel free to ignore the old saying "less is more" if you want. At an Indian wedding more can be more!